Story 2 Live
I want to know Christ and experience the mighty power that raised him from the dead. I want to suffer with him, sharing in his death… Instead, be very glad—for these trials make you partners with Christ in his suffering, so that you will have the wonderful joy of seeing his glory when it is revealed to all the world.
Philippians 3:10, 1 Peter 4:13  NLT 
Story2Live is the arm of Sacred Story Ministries which focuses on supporting sisters in Christ who are in especially difficult places in their circumstances. We hope you will get to know these precious women as we introduce their stories to you. We want to link arms by presenting their needs at the throne of grace.
Tina's Story: Nothing is too difficult for God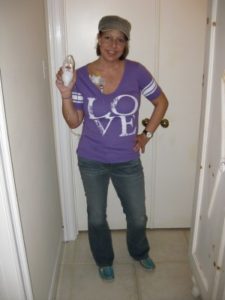 It all started when I began getting tired very easily in October 2011.  I was working at the front desk of a local doctor's office.  He began noticing my lethargy and ran some blood tests.  Originally, everything looked okay.  A couple of weeks went by and my fatigue worsened.  I had a few other symptoms like pain in my back and shortness of breath.  The doctor sent me for a chest x-ray (stat!) because he thought I might have a pulmonary embolism.  He received the x-ray a couple of hours later and asked to come by my house to speak to my husband and me.  Early that evening, he told us that my lungs were fine but the x-ray showed the top panel of my liver and that there were many metastasized lesions.
It took a few moments for the word "metastasized" to sink in…"like cancer", I asked. "Yes", he responded, "You need an oncologist and a biopsy to see where the cancer originated."  As he was leaving he mentioned that I "might not need to buy a birthday cake, although…".  I didn't hear the rest of his sentence.  This was the third week of November and my birthday is January 10th.  I was in shock.  I have three children, a husband, a dog, I thought to myself.  Who will help my daughter pick her wedding dress?  Who will raise my 9-year-old?  He is still a young child!  My fourteen-year-old son still needs me so much.  This can't be happening I thought.  I instinctively cried out to God.  Whatever was in store for me, I knew I wouldn't be alone.
A friend that I worked with has a great relationship with a famous doctor here in Houston.  She has been on the boards of several medical organizations including NASA. Members of the French royal family fly here just to see her.  She had a 6 month waiting list; not to mention, as a concierge physician, her fees were way over my budget.  My friend called me the following Saturday morning and said the doctor had time to see me…if we could come right then.  The doctor gave me a full exam (at no charge!) and stated that she would make me an appointment with the best oncologist.  God was already working miracles!  I never would have been able to get in to see these famous doctors. A few days and a liver biopsy later, I was diagnosed with stage four pancreatic cancer.  What could be worse?
My family immediately gathered around me.  We cried out to God together and prayed together.  No wimpy prayers for us!  We claimed healing. We claimed a long life.  We claimed peace and joy through the process.  Meanwhile, I was being treated with a brand new, chemotherapy protocol that had been only been academically trialed and approved the previous May.  I was an excellent candidate for the regimen, my doctor told me.  The downside was that it was so aggressive and needed to be repeated so often, it would be very, very hard on my body.  More so than many other types of chemo.  I was up for the challenge.  "I am a tough girl!" I told him, on more than one occasion.  Little did I know just how tough my body would need to be.
During December, I fell asleep every night to a podcast I had found, where every verse on healing in the bible was recited by a pastor in North Carolina. I'd repeat them daily.  I read Dodie Osteen's book about her miraculous healing of liver cancer.  I read Tish Hagee's book about her miraculous healing from an inoperable bone cancer in her leg. I knew and felt in my spirit that if God could heal these women, He could and would heal me, too.  I didn't let myself doubt.  I had no choice other than to be completely healed.  I woke-up, ate, lived and slept reciting healing verses to myself. My favorite was Psalm 118:117, "I shall live, I shall not die, I will live to declare the good works of the Lord".
In December, God gave my family and me confirmations that He was indeed answering my prayers: my mom, sister and I went to a healing service so that I could be prayed over.  While we were there, my mom and sister both, separately saw a vision in which they independently felt that sickness and disease was being driven from the room.   My aunt, an intercessory prayer warrior, after praying with her intercessory prayer group, felt as though God confirmed their prayers of my healing.
Also, my mom sent in a prayer request to the 700 Club who had set up a Christmas Tree on their television set in which they hung all of the prayer request "ornaments".   One evening a few weeks later, as I was channel surfing, (looking for a comedy) I ran across Pat Robertson stating that when the 700 Club continued they would be praying over a few of the requests on the air.  My heart felt like it stopped beating and I had an overwhelming feeling that he would read my mom's prayer request.  There were probably thousands of the paper "ornaments" hanging on the tree.  When the show resumed, unbelievably, the prayer request he read and immediately prayed over was for a "Mom of three with pancreatic cancer and metastasized lesions in her liver.  Pat Robertson prophetically stated that the Lord can and would heal me.  I was flabbergasted, immediately called my mom and my heart was so full of joy the rest of the night that I couldn't sleep.
In January, my and my families' prayers turned from closed fisted crying out to God for healing to an open palmed praise for healing. The Lord gave each of us a supernatural peace; a peace that passeth all understanding! The chemo was beginning to wear on my body. I was going to the ER after every infusion with severe dehydration. The chemo had given me facial tics, watering eyes, a permanent lump in my throat, skin sensitivity and more. It had taken my hair, my appetite, my energy, the skin from my hands and feet, and even parts of my stomach lining, but it never took my faith and determination of a miraculous healing from my Lord and Savior Jesus Christ!
The first of February, I had a PET scan. revealing that the cancer had stopped growing and had even diminished by 1/3 in my pancreas and ½ in my liver.  Praise the Lord!  The chemo continued and I was basically bed bound for over a month until the next PET scan. Prior to the doctor's appointment in which we would be going over the scan results, my mom felt as though the Lord put the word "unusual" in her heart. She said to me that she expected an "unusual" miracle. When the doctor walked in he looked at each of us and literally said, "I have unusually, amazing PET scan results." My mom and I glanced at each other and waited for the next sentence. He said, "ALL of the cancer is gone from your pancreas. It is a perfectly normal, healthy pancreas. The lesions in your liver, of which were originally too many to count, have all gone and there is one spot left, that we are not even sure is cancer." M-I-R-A-C-L-E!
In November when a group of friends heard about my diagnosis they banned together to do something for my family while raising money for Pancreatic Research. My community, led by a group of bible study friends, put on an official 5K race that had over 300 racers (there had been many naysayers and were told to expect less than one hundred participants) and raised over $6,000 for Pancreatica Research Organization. The night before my friends organized a spaghetti dinner that fed over 340 people and raised over $18,000 to assist with my medical bills. I am truly a blessed girl!
I am very excited and thankful to share my testimony with Sacred Story. My hope is to spread the blessings of the Lord forward and touch other's lives so that they, too will have a Sacred Story to Live.
Update on Tina's Story
: About six months after receiving the news that her PET scan results were unusually amazing, Tina's cancer returned and she entered the presence of her Lord on March 7, 2013. She fought the good fight of faith until the very end and is experiencing the fulfillment of her ultimate healing in heaven.
Sacred Story came alongside Tina by giving her the opportunity to honor her neighbor who had shown her kindness as she lived her story of battling the cancer. A gift donated by Robes of Righteousness was passed on to her friend as a gesture of gratitude. Individuals felt led to contribute to Tina's medical bills. When asked what would encourage her personally, Tina mentioned hot yoga classes as a way to ease the side effects of the chemotherapy. Even though she was not able to take advantage of the gift certificate Sacred Story gave to her, we are so pleased to "gift" it to Tina's daughter. Please pray for Tina's husband and three children who continue to process their loss.
To find out more about Tina's journey, visit her blog www.tinasprogress.blogspot.com
Heather's Story: An Unshakeable Faith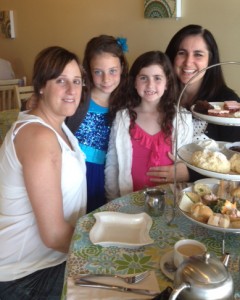 My wonderful husband, Trevor, was faithfully serving the Lord as pastor of a new church in Calgary, Canada. I, Heather, served as leader of women's ministry and in other supportive roles in our church. Our two beautiful daughters were such a blessed and joyful part of our lives. My husband was preaching through the book of Titus, seeking God's wisdom in challenging our church with the year's theme of having an unshakeable faith. How the truths of God's Word that he taught weekly would become the saving grace of the trial we were about to enter. This is God's sacred story of building an unshakeable faith in my life!
On December 14, 2011 we woke to a day that changed our lives forever. Our oldest daughter, sweet healthy then 9 yr old Hope, had just had a tonsillectomy.  Two days after the procedure, we found her unresponsive and struggling to breathe. We knew it was critical and call 911, but were encouraged that she was still trying to breathe on her own and had a strong pulse. En route to the hospital, Hope went into a full cardiac arrest; her heart stopped and would not start again. Finally in the ER, they were able to revive her heart. We agonized at this shocking progression, but had hope that the worst was over. However Hope's condition worsened, and even more terrifying, was the fact that no one knew the cause. Later that evening, the ICU doctor delivered the news that the only hope, to save our precious Hope, was to attempt a very risky surgery. If she survived the surgery, she would be transferred to another city which was equally risky.
We kissed her goodbye and made our way to the waiting room. Looking back, we know that God definitely has a plan for Hope's life because she survived the surgery and the transport. Two days later after being told she still might not live, Hope suddenly started improving, giving us hope that although a long road to recovery lay ahead, we were on our way! Yet again, our hope was challenged as we received the news after a CAT scan, that Hope had sustained two small strokes. We adjusted our idea of what lie ahead for our precious little girl, but still counted our blessings.  And then the final devastating blow… an MRI revealed Hope had actually sustained a severe brain injury of 60-80% damage. She would never be the same, and woke in an almost vegetative state… she could open her eyes and that was it!  Not even any reaction to painful stimuli. She just lay there with no answers. Our hearts were broken!!!
How could our faith possibly withstand this? Not because of anything inside of me, that's for sure! I am weak to the core! But when we are weak, He is strong in us! Isaiah 40:29 My faith could stand unshakeable solely because of who God is! His character is unchanging despite our circumstances. He alone is perfectly sovereign, good, loving, always working toward the best of those called according to His purpose (Romans 8:28)… who else would we turn to! Rather than asking why us, we said why not us. Let this not be a wasted trial, God! My favorite verse became Romans 15:13 "May the God of hope fill you with all joy and peace in believing, so that by the power of the Holy Spirit you may abound in hope." Our daughter's name, Hope, was so appropriate for this trial!
It is only by God's grace and strength that we endured the 5 month stay in the hospital. Hope had severe complications that landed her back in the ICU numerous times, resulted in further surgeries. Our hearts continued to break as she suffered many painful symptoms, procedures and side effects. Her condition was puzzling and complex and the doctors struggled to know how best to treat her multiple issues. There were many times that I struggled to honor God with my faith, submission to Him and dependence on Him. Our circumstances were so very hard… but our God is greater still!
His sustaining grace came in so many ways that I couldn't recount them all, but I'll share a few highlights. We had the amazing gift of two meals a day delivered to us for the entire time we were in hospital, compassionate health care professionals who were integral in Hope's care becoming dear friends, God's provision in numerous generous gifts and the many notes, encouraging us with how many people God had stirred to pray fervently! We have stories of peace that passes understanding that flooded over us in the many dark nights of agonizing with our screaming and suffering child! We have Scripture upon Scripture that became the very breath within us… the truth of God's Word and His awesome character became so alive to us in ways we have never experienced before!
Hope came home from the hospital in May. It was a celebration, for sure, but it was also a painful time of adjustment to our new reality. It has been incredibly hard… we call it our roller coaster of ups and downs. Hope has made gains in her recovery that are beyond what anyone thought possible. We know that God has done a healing work in some areas of her life and we praise Him! But in addition to having days of improvement, she has days of moving backwards and overall is far far from the girl she once was. We continue to ask for His healing touch on her crippled body and mind, all the while praising Him in whatever His answer will be.
This has been especially hard on Gabi, our youngest daughter, as she grieves the loss of her best friend and playmate, and a very different family dynamic now, all at the young age of 8 years old. And yet to see how our sweet Gabi has grown in her faith, other-centeredness, and in her passion to pray! Her frequent prayer that touches my heart so deeply is, "God we ask that You would move the mountain of Hope to be healed. We know that only You can move mountains God, and You have moved this mountain a little bit and we thank You for that! But God… we ask that You would move that mountain ALL the way… cause God, that mountain has overstayed its welcome!"
I have found the key to an unshakeable faith in Matthew 6:33-34. Seek first the kingdom of God… keep an eternal perspective in this temporary life, keep my eyes off the circumstances and instead fixed on Jesus, the Author and Perfecter of our faith. We focus on today, striving to be faithful, not worrying about the troubles of tomorrow. God had already instilled this in our sweet Hope's heart. As I shared my concerns about Hope's tonsillectomy, asking for prayer, she replied, "Don't worry mom! Maybe Jesus will come back tomorrow, and then what will it matter!" How right she was and still is! What will matter… by HIS grace, may I be found faithful… by HIS transforming power, may I be found to have an unshakeable faith, all for HIS glory!
Sacred Story came alongside Heather by sharing her story of Hope and the prayer needs surrounding her recovery. The ministry made it possible to honor a woman in her story who had made a positive impact. A gift, donated by Robes of Righteousness, was given by Heather to a special practitioner who had been really helpful. We also wanted to encourage Heather personally (pictured on far right in photo). She mentioned that a woman in her church, Jill (pictured on far left), suffers from an inoperable brain tumor. Since it is cancerous, Jill's time is limited unless God's intervenes in miraculous ways. Heather said she would like to take her younger daughter, Gabriella, to high tea with Jill and her daughter Kira. If the Lord chooses to take Jill home soon, her prayer for Kira is to have strong friendships with other girls who know the Lord. Gabriella is one of those little girls. Sacred Story had the privilege of making high tea possible.
Thank you for praying for these dear sisters in Christ and their families. Please visit Heather's blog www.prayingforhopepeacock.blogspot.com to find out the latest prayer needs and/or write a note.